As a private practice therapist, you don't need to spend hours creating your own forms to meet regulatory standards.  I've already spent 1000's of hours doing it for you -- and had them reviewed by an attorney to make sure they cue you to dot all the I's and cross all the T's.
Once purchased, you can download immediately them to your computer.  But never worry about losing them because you always have access to them by logging back into your account.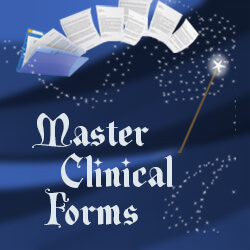 BUY ALL 3 PACKAGES AND GET A SPECIAL DEAL
Receive $40 off 1 hour of private consultation with Beth.
(Normally $150 per hour - that's $40 in savings!)
THE DEAL - $110 for 1 hour
Be sure to add 1 hour of private consulting to your CART.
You'll see the savings in CHECKOUT
Master Clinical Forms include essential clinical forms you need from Intake to Discharge. Customize them to suit your practice needs. They cue you to include 1) all the clinical content that helps you assess a client's progress and 2) the mandated insurance content. This supports you in justifying medical necessity. They are a combination of check boxes and short narratives, so your clinical voice is present in each note. You are free to customize these forms to suit your practice needs.
Diagnostic or Intake Summary
Includes contact and emergency contact information, reason for seeking services, cultural issues, religious/spiritual affiliation, education, work, and medical histories, birth/foster/adoptive family mental health history, substance use history, barriers to treatment, client strengths and much more. Send the Diagnostic Summary to your client prior to the 1st session and see how smooth the first interview can be.
Treatment Plan
Includes discrete areas to describe the Problems, Goals, Barriers to Treatment, Objectives, Interventions, Assessment, Progress, Medications, resources recommended and much more.
Session Note
Includes a place for the start and stop time of each session, a place to list of symptoms, checkboxes for the mini mental status exam, risk assessment, suggested list of possible interventions, objectives, progress, and short narratives to describe your work in your own voice and much more.
Case/Collateral Consult Note
Includes reason for the consult, actions to be taken as a result of consult and much more.
Discharge Summary
Includes reason for the consult, actions to be taken as a result of consult and much more.
PLUS, BONUS FORMS to helpful tips on how to use these forms.
Real case examples of each form
Detailed explanation of how to write a Treatment Plan
Extensive list of Barriers to Treatment
Tips for Completing Outpatient Reviews or Authorizations
Since starting anything new can be challenging, 3 weekly emails with tips on how to streamline the use your new forms.
Master Clinical Forms are available as both Word Docs and Fillable PDFs. Both versions can be customized to meet your clinical needs. Try each to decide what works for your practice.
Master Clinical Forms may be used with or without a treatment planning book. The decision depends on your comfort using your own clinical voice as you represent the modalities you use in treatment. A treatment planning book is NOT included with this purchase.
All forms have been created in Microsoft Word, which is the standard in word processing.  Word Docs have the most flexibility in terms of being customizable and the "narrative" areas expand to meet your narrative needs. The downside is they can lose their formatting, but most people find them easy to use and I've had no complaints. I use them myself. The Fillable PDFs have less flexibility in terms of customization, but they will hold their formatting under all circumstances. If you are severely technically challenged, these may be the forms for you.
Fillable PDFs are best used with Adobe Reader (download free Adobe Reader) or Adobe Acrobat.
I also include static PDFs (non-fillable) if you'd like a pre-formatted version that may more easily print for you.  This is a good solution if you do not use Microsoft WORD.
DOWNLOAD IMMEDIATELY
$187
Intake Form
If you offer a screening call to potential clients, using this form covers all the bases. It includes reason client is seeking services, basic insurance information, a way to document a *fee adjustment if you offer one for private pay clients, and more. (*Documenting the rationale for a fee adjustment, formerly known as a "sliding scale," is a legal issues. Please don't forget to do it.)
*HIPAA
Every client must be given the Health Insurance Portability and Accountability Act to read.
*Acknowledgment of HIPAA
Every client must sign the HIPAA to show they read it.
*Insurance Information and Authorization
Information needed for insurance formatted to maximize the chances of being able to read it after the client fills it out.
Receipt for Services (Superbill)
*Client Rights and Responsibilities
A mandatory form outlining what the therapist provides, the responsibilities of the client, their rights to fair treatment and the process of filing a complaint (and much more). Customize it to fit your practice needs.
*Social Media Policy
With widespread access to personal information, a social media policy is crucial. Not only may you not want your client to find out information about you, the client may not want you to find out information about them that they have not personally told you.
*Office Policies (Consent to Treat)
If a problem arises and the solution or process or handling it is not in your office policy, you can't enforce it. This includes a cancellation and inclement weather policy.
*Release of Information
Clients must complete this so you can communicate with their medical providers or others involved in their treatment.
*Credit Card Authorization Form
Enough said, other than it's formatted to maximize the chances of being able to read it after the client fills it out.
Case Closure, General
This letter includes reason for termination, a brief review of treatment, and referrals for continued treatment if necessary. Prove you communicated with your client that services were terminated, provide written closure and cover yourself legally.
Case Closure Letter for No-shows
This letter includes a reminder of your no-show policy that the client signed at the beginning of treatment, an opportunity to have a final session, a date for termination if you do not hear from the client, a brief review of treatment goals, and referrals for treatment should the client need services in the future. Proving you communicated with your client that services were terminated and cover yourself legally should anything happen to the client.
*Prescriber & PC Communication Letter. 
Communicating with the PCP and Prescriber for continuity of care is important and necessary. This letter is a combination of check boxes and narratives that cue you to give the provider the information they need to be effective and for you to ask questions of the provider. Keep a copy in the client file to document that you have been in communication.
*Business Associate Agreement
If you have a 3rd party vendor (like someone who does your billing,  cleans your office, or fixes a computer, etc. and has access to client information), you must have a Business Associates' Agreement that reinforces HIPAA.
DOWNLOAD IMMEDIATELY
$87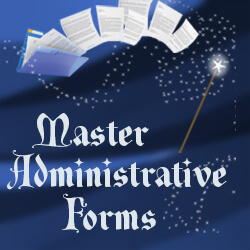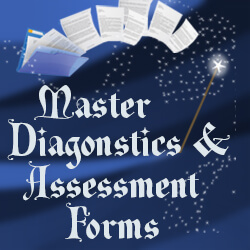 Because therapists who have taken my course and used my clinical and administrative forms asked, I put together a set of 4 MASTER DIAGNOSTIC & ASSESSMENT FORMS that help you get diagnosis in the 1st or 2nd session.
25 Item Symptom Checklist by Diagnosis
Have the client complete this checklist and bring it to the 1st session. Each diagnostic criterion has several questions for the client to check if the question applies. This helps the client report their symptoms in an organized way and focuses the diagnostic or first interview. See how quickly you can get a diagnosis and formulate treatment.
100 item Symptom Checklist by Diagnosis
This is similar to the 25-item checklist only it has questions for every criteria associated with the diagnosis. If the client seems to have a complicated presentation, use this form during the session/s for help understanding what you are seeing, to get a diagnosis and formulate treatment.
Mini Mental Status Exam
You can find an extensive MSE online.  However, I think they are were developed for new clinicians who do not know what to look for or how to document what they observe. This MSE is simple yet comprehensive MSE and all that's needed for an adult.
63 Standardized Assessments for Adults, Teens, and Children.
The is a list of free assessments by diagnosis with the links to each one.It includes multiple assessments for general quality of life, anxiety/panic, depression, mood disorders, OCD, PTSD, eating disorders, drugs and alcohol, attachment, personality disorders, disability, gambling, sex addiction, tobacco use, suicide risk, and compassion fatigue for clinicians.

Insurance companies require us to administer standardized assessments because they are considered objective reports of client symptoms and therefore can help justify medical necessit
DOWNLOAD IMMEDIATELY
$57
BUY ALL 3 PACKAGES AND GET A SPECIAL DEAL
Receive $40 off 1 hour of private consultation with Beth.
(Normally $150 per hour - that's $40 in savings!)
THE DEAL - $110 for 1 hour
Be sure to add 1 hour of private consulting to your CART.
You'll see the savings in CHECKOUT
INTRODUCING Master Supervision & Consultation Forms exclusively for supervising therapist.
Though often referred to as the same, supervision and consultation are quite different and therefore have different needs. Supervision is provided to an unlicensed clinician. Consultation is provided by one licensed clinician to another licensed clinician. So I put together a set of Master Supervision Forms & Master Consultation Forms that outline the rights and responsibilities of each, along with templates for note taking. They are completely customizable in Microsoft Word format.
Supervision Agreement
Supervision is much more than taking an unlicensed clinician "under your wing" to nurture their growth.  You have specific responsibilities that hold legal liability. This agreement documents the rights and responsibilities of both the supervisee and the supervisor and the criteria for evaluating your supervisee. It provides a way for you to discuss and document how to handle potential disputes, how to interface with the agency of the supervisee, and more.
Supervisee's Learning Needs Assessment
Identifying your supervisee's learning needs and styles at the beginning of the supervisory relationship is like collaborating on a professional bio/psycho/social assessment. It can provide a roadmap of the challenges and strengths that will need to be addressed so that your budding clinician has the best learning experience possible.
Supervision Note
A good supervision template can inform your clinical thinking and keep track of your supervisee's progress, just like a good session note does with a client. This template includes a list of supervision models, therapeutic modalities, topics and diagnoses discussed, and methods used so you can simply check them off. It also includes space for a narrative about the cases discussed and any comments worth recording about supervisee's strengths, challenges, directive you may give, and more.
Supervisee Evaluation
Without a blueprint for evaulation, there is no way to assess and document progress. This evaluation builds on the Supervisory Agreement and Learning Needs Assessment (like following The Golden Thread) so that together, you can track progress regarding clinical, cultural, and administrative competency, ethical practice, sensitivity to diverse populations, such as LBGTQ, and immigrants, and more.  It includes a 15-item rating scale and plenty of space for narrative.
Group Supervision Note
Documenting what happens in group supervision is just as important as documenting what happens in group therapy. The Group Sup Note lets you easily keep track of the model of supervision used, the therapeutic practices, topics, and diagnoses discussed, as well as the methods you used and modeled, and more.
Consultation Agreement
When talking to another fully licensed clinician about a case, you are providing "consultation" to another professional, not supervision to a student. The responsibilities of being a consultant are vastly different than for a supervisee. This Consultation Agreement describes your professional responsibility, limits of responsibility, and legal liability.
Consultation Note
Although a consultant is not legally responsible for their consultees, keeping notes on what you discuss is important because it 1) proves the clinician got consultation on a difficult case and 2) helps you, as the consultant remember the clients discussed, if ongoing consultation is needed. This template includes a list of the model and method of consultation used, a list of therapeutic modalities used, a list of topics and diagnoses discussed, and plenty of room for narrative note taking.
DOWNLOAD IMMEDIATELY
$67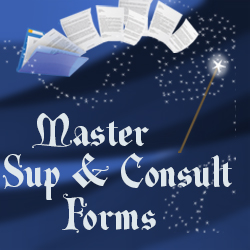 These forms have been created for Medicare standards. Medicare standards are extremely thorough, and many insurance companies follow them exclusively.  It is not possible to create forms that comply with all state standards. For state specific guidelines, you may want to review the National Academy for State Health Policy for medical necessity guidelines by state.  https://nashp.org/medical-necessity/, particularly if you take Medicaid.